Our search for a camper and tow vehicle was full of dead end after dead end. We added up how much it was going to cost us to change over our lifestyle, and how much we would be able to make from selling off our possessions, and determined that we had a very limited budget to get started. The more we looked at trucks available for sale, the less it seemed like a good investment of funds.
It was sometime during the third trip to the car wash to attempt to clean up the 1999 Honda Odyssey we owned to sell that we decided to keep it instead. Knowing the full maintenance history  of the Odyssey made it clearly a better choice of tow vehicle than buying a truck with a mysterious past. The downside is that it restricted the towing capacity we could achieve to approximately 3500 lbs
We started searching for lightweight travel trailers, and gained frustrations about the lack of 'search by weight' options on various online RV marketplaces. We looked at so many trailers that we gained the skill of determining if a trailer would be too heavy just from a single exterior photograph. We looked and looked and looked, but the perfect trailer simply refused to appear.
So, we decided we'd just live in the van. We found out from a website called 'outside mom' that one could string up a hammock into a minivan, making it into a camper without modifying the interior. We were impressed with the simplicity of this, and proceeded to make some 3D models of a theoretical minivan home, complete with taking the model to the Grand Canyon: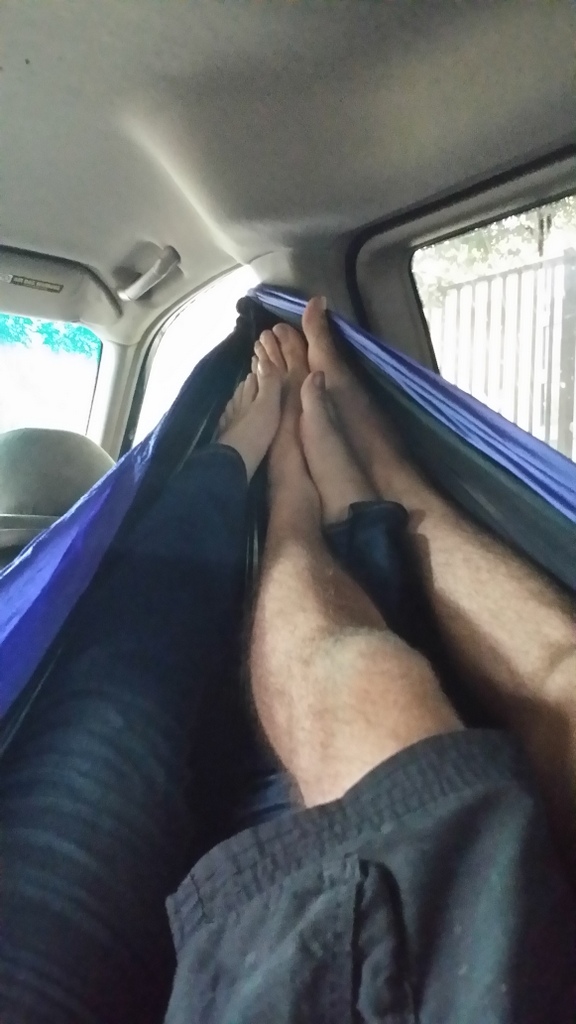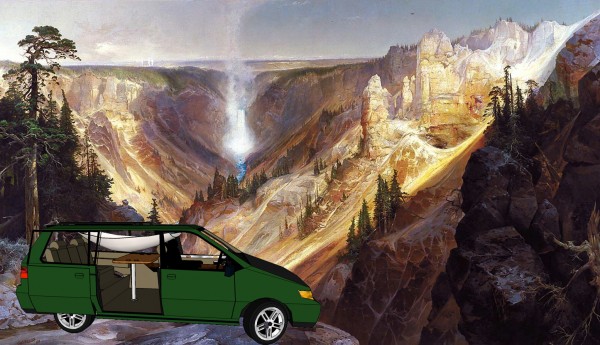 We set out and purchased a hammock, and set it up, tried it out….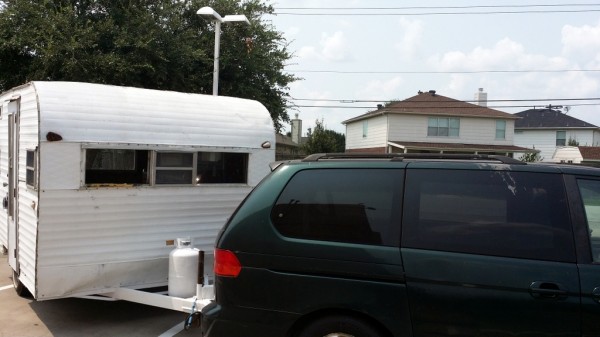 …and we immediately decided that this would not be a viable full-time option, but it would be good in a pinch for a quick overnight!
So we resumed our search. The selection was uninspiring, until we shifted our perspective, and began looking for vintage campers. Enter our new home, a fixer-upper to say the least:
We had wanted a newer camper in ready-to-use condition, and instead we got ourselves the ultimate project camper. While thinking that perhaps we had really done it this time, and bitten off more than we can chew, there's a part of this situation that is electrifying and exciting! We're looking forward to spending time getting to know every system and every structure in this camper. Stay tuned for an extensive interior tour of the 'before' version, and we will be documenting this camper renovation every step of the way. The road trip starts now!